The 2nd meeting of the LIFE VIIEW 2050 Advisory Group
On the 20th October 2022, the second meeting of the Advisory Group took place. The meeting was held online. The meeting was attended by representatives of the Advisory Group and representatives of the LIFE VIIEW 2050 project.
The meeting was chaired by Robert Jeszke, LIFE VIIEW Project Coordinator. Robert Jeszke presented information on the project's implementation plan, the analyses being prepared, and about the platform of modeling experts, which will be a place to share experiences for the LIFE VIIEW 2050 project. The main goal of the analysis being prepared is to develop scenarios to support policies and measures  which would lead to decarbonization in 2050, with the inclusion of EU ETS and non-ETS sectors.
The second LIFE VIIEW 2050 Advisory Board meeting was attended by:
Antonio Soria, Head of Economics of Climate Change, Energy and Transport Unit (C.6) at JRC
Kamil Jaworski, Chancellery of the Prime Minister of Poland
Karsten Neuhoff, Head of Department in the Climate Policy Department in DIW Berlin
Stefano Verde, University of Siena
Simone Borghesi, Director FSR Climate Florence School of Regulation (FSR) European University Institute
Krzysztof Wójtowicz.
At the main part of the meeting Jakub Boratyński, CGE modelling expert for the LIFE VIIEW 2050 project, gave a presentation on the main modelling ongoing work, including the models used and how they are combined, and the analytical assumptions used in the model scenarios. The meeting was a good opportunity to exchange knowledge, views and perspectives on modeling scenarios, assumptions, information and data.
After the presenatation the substantive discussion with regard to the adopted modelling principles was held which focused mainly:
 on sectoral considerations and analytical assumptions for the inclusion of new sectors, i.e. transport and construction, in the EU ETS emissions trading system;
interaction with other climate policy measures – energy efficiency and renewable energy sources;
various emission fee measures and command & control mechanism.
More information about the LIFE VIIEW 2050 project you can find here: https://climatecake.ios.edu.pl/life-viiew-2050-project/?lang=en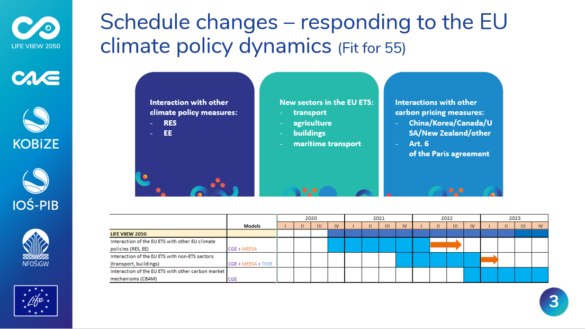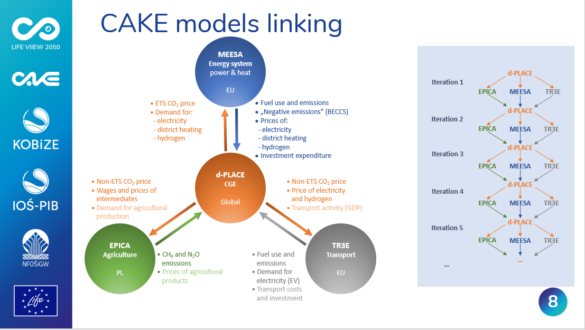 Back